How a Home Roofing Inspection Works
Do you know how a home roofing inspection works? We've got you covered. Read on to learn more!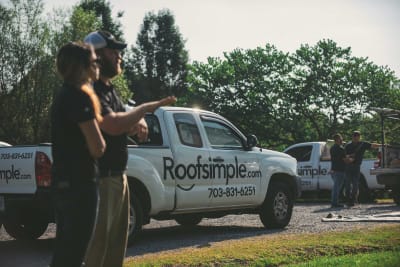 As with many things, you may believe that your home's roof is intact if it has no apparent damage. However, your cursory glance provides an incomplete picture. To get a full measure of its condition, your roof requires a thorough inspection from professional roofers or roofing contractors. Home and business owners in the Shenandoah Valley, VA area can rely on Roofsimple for all such needs.
Roofsimple combines the personable approach of small businesses with the coherence, resources, and organization of large enterprises. We believe in delivering high-quality craftsmanship and top-of-the-line products without sacrificing excellent customer service. Our model is simple: effective solutions at affordable rates for good customers. To learn more, visit our website today and contact us with questions or concerns.
Below, we outline how a standard residential roofing inspection works:
How Long Inspection Takes
We want to make clear that roofing inspection, to us, involves a trained and experienced professional examining each aspect of a structure's roof. Doing so is a meticulous process that requires the roofing professional to inspect the interior and exterior portions of the roof. These points are crucial, as a quick survey by an inexperienced worker cannot provide the same value.
Generally, a proper roofing inspection takes just under an hour. However, this timeframe depends on your roof's size, type, and status as well as the weather conditions on the inspection day. Additionally, a roofing inspection after a severe storm may take longer due to the necessity of searching for structural damage.
Frequency
Like several other aspects of your home, your roof should receive regular inspections. A routine inspection helps catch minor problems before they become major ones. Slight issues can turn into major liabilities if a destructive storm blows in.
So, our roofing company professionals suggest homeowners get inspections every few years. Asphalt-shingled roofs should get them every 3 years while tile and metal roofs can go 5-6 years between inspections.
Steps of Inspection
While roofing companies may differ in specific inspection details, they share their fundamental steps. During your roof inspection, expect the service person to start with an exterior scan for obvious signs of damage then move in for a closer look. They'll do the same thing inside your home as well.
During their "closer look," roofing inspectors check 4 distinct elements: structure, material, interior, and workmanship. This system helps roofers examine each aspect of your roof and determine its overall status. Moreover, they'll check the status of systems related to roofing: gutters, chimneys, and so on.
Particular elements of roofing require special attention. For example, roofers will check drainage patterns to ensure that no moisture collects and penetrates the shingles. Joints and angles, also, receive particular attention.
Cost & Recommendations
A common question that every roofer hears: how much does a roof inspection cost? The specific amount depends on the company's rates and your home's size, but most inspections come out around $200. Considering the average price for home roof replacement falls between $5,000 - $10,000, you can save significant money with routine inspections that keep your roof in great condition.
Furthermore, professional inspections come with professional recommendations. Should they find an issue with your home's roofing, a roofing contractor can suggest steps to alleviate it. This benefit makes your investment a smart one.
Professional Roofers Now Available in the Shenandoah Valley, VA, Area!
As a homeowner, you have plenty of items and concerns on your mind. So, why not rest easy about your roof's condition by turning to Roofsimple, a professional roofer company that serves the Shenandoah Valley, VA, area? We seek to provide our clients with straightforward roofing solutions and advice at affordable rates. Call us today at (540) 404-1727 or visit our website to learn more about Roofsimple.