How to Choose a Roofing Company (6 Questions to Ask)
How do you choose a roofing company you can trust? Here are 6 foolproof ways to evaluate roofing companies and pick the one that's right for you.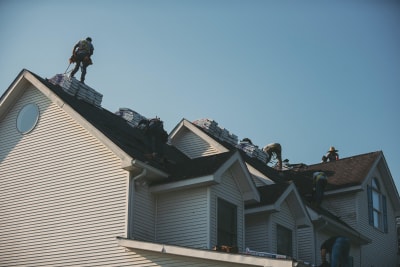 How do you choose a roofing company?
In this article, you're going to learn 6 questions you must ask potential roofers, so you can confidently choose the one that's best for you.
1. Who Are They?
Before hiring a roofer, do your homework. Take the time to ask a few basic questions.
How long have they been in business?
Have they done a lot of roofs like yours?
Do they have licensing and insurance?
2. What Are Their Past Clients Saying?
Check out their reviews — not just the list of references or testimonials they give you (they likely cherry-picked the best ones). Dig a little deeper.
Look for companies with good reviews — and lots of them. A 5-star rating from one reviewer may not be enough to paint a good picture of who they are.
Get to know them. Even during COVID-19, you need to have enough conversations to know whether it can be a long term relationship.
You might need to meet virtually, through your storm door, or standing far enough apart outside to be safe, but don't move ahead if you're not comfortable.
3. Do They Guarantee Their Work?
Mistakes happen. When they do, it's important that your roofer is committed to making things right.
Be sure to ask potential roofers:
What kind of warranty do you offer?
What does it cover?
Do they guarantee your work?
When you ask these questions, watch their reaction. Do they act offended? This could be a red flag that the roofer will be hard to work with.
Good roofers will stand behind their work and aren't afraid to talk about potential problems. You want a relationship based on mutual respect.
4. Is Their Estimate Reasonable?
Your goal here is to make sure the company will give you what you need at a reasonable price.
To compare roofers, you'll look at:
The product and service each company is offering: Are they using quality materials?
The price they're charging: How does it compare with your other estimates?
How quickly they'll get to the job: Is there a long waiting period?
How many estimates do you need? There's no magic number. Get as many bids as you need to feel comfortable.
Sometimes, the first person you talk to is the right fit — you hit it off instantly, or they come highly recommended by someone you trust. Maybe you can tell that they're sympathetic to your situation and will be easy to work with. On the other hand, you may get an estimate from five companies and still not feel comfortable.
Make plans to meet with at least three roofers, but don't let yourself feel pressured to make a decision before you're ready. You may need to talk to eight roofers to find the right person.
Your goal is to find a roofer you can feel comfortable with. This is a relationship, not a job, and it needs to be based on mutual trust and respect, like any other relationship.
5. What Kind of Roofing Company Are They?
The industry does perpetuate the idea that there are countless roofers out there trying to take advantage of you.
And yes, those people do exist. But in reality, you're not likely to run into them. If you do, you'll likely weed them out in steps one and two above.
So let's take a minute to understand the roofing industry.
There are basically four types of roofing companies.
All of them do good work. You just need to know which type of company you're talking to and make sure they're the right fit for your needs.
Small Businesses
Smaller businesses are run by one or two people, with a secretary and one or two crews. They have a gross revenue of around $1–3 million a year, which goes largely to materials and labor.
Service Roofers
Service roofers focus on just that: service. Their goal is to be both affordable and achievable.
This type of roofing company does insurance claims, roof replacements, inspections for real estate companies, and more. But regardless of the type of job, they provide a service layer on top. As a result, they offer one of the best customer experiences.
Sales Roofers
Sales roofers are usually larger companies with a large salesforce. If you call them, they'll want to set an appointment to do a formal presentation. They'll also require that all decision makers be at that meeting.
These meetings are usually two- to four-hour presentations that are designed to make you feel like you're getting a lot of value. The salesperson then becomes the point person who helps you sort through all the options available for your home.
Storm Chasers
Storm chasers follow storms. After a tornado, hurricane, or hail storm has caused significant damage to an area, they'll go through the area, knocking on doors, offering to check for roof damage.
These companies focus on insurance claims. They'll help you with the insurance process and get paid by the funds you get on that claim.
Note: Storm chasers are usually a subset of the sales category, though they can sometimes be a service company.
6. What's Your Experience Before the Sale
What should you look for in a roofer? Think about your experience with the company before you shake hands. It's a good indication of how they'll treat you after you exchange money.
If you have to fill out a form and wait for someone to get back to you, that may indicate you won't get good service.
Look for a company that lets you schedule an appointment, and a sales representative shows up to your house at the scheduled time.
Look for a company that gives you the information you need to make a good decision. They should be comfortable with you asking hard questions and give you clear answers that address your concerns.
Be aware, it's a red flag if the roofer gets offended when you ask questions.
Avoid high-pressure sales tactics and negotiations. A good roofing company will give you their best price upfront. You want a roofer that's easy to work with and who you can trust.
Another red flag: If they rely on finger-pointing and negotiating to make the sale, they'll likely resort to those same tactics after the sale.
Look for a company that guarantees its work. If there's a problem during the coverage period, and if they can't prove it isn't their fault, they should be willing to fix it at no cost to you.
Bottom Line: Trust Yourself
Hiring a roofer is a bit like finding a good financial advisor. You want someone you can trust with the investment you're making in your home.
That's why you need a roofer who knows the industry and understands you. You need someone who will treat it like a relationship, not a project.
Do your homework and know what kind of roofer you want. Trust yourself, and never make fear-based decisions.
The fear of missing out on that "special one-time price" may not be worth missing out on the benefits of a healthy relationship with a company that values your home as much as you do.