10 Tips to Prep Your Roof for Storm Season (And Minimize Damage)
Protect your investment in your home. This checklist will help you prepare for storm season so you can minimize and possibly prevent damage to your roof.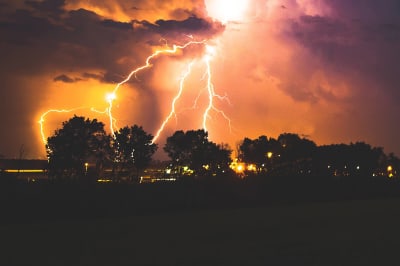 Weather can be a homeowner's biggest enemy. It's the primary cause of wear and tear on your roof.
The sun can degrade your shingles and wear down paint on the eaves or soffits. Wind can cause damage from flying or falling debris. And water from heavy rains can cause even more damage.
In areas prone to severe weather (like hurricanes, tornados, or hail) the damage from a storm can be catastrophic.
Winter storms cause damage too. They bring heavy snow and ice. The added weight of the snow can damage your roof's structure, and ice dams cause melting snow to leak into your home.
It might feel like there's nothing you can do to protect your roof during a storm except ride it out and hope for the best. But if you proactively prepare for storm season, you can prevent, or at least minimize, storm damage to your roof.
Use this 10-step checklist to prepare for storm season before the weather turns bad.
Be careful! It's a good idea to hire a professional anytime you need preventive maintenance on or around your roof. First, it's easier than you might think to inadvertently damage your roof. Second, professionals have the gear and experience to avoid accidental injury.
1. Get an Inspection
Roof maintenance is essential to making your roof last as long as possible. It's especially important before storm seasons, because routine maintenance helps you spot problems before severe damage occurs.
Call a good service roofer if you haven't had your roof inspected in a while. They can do a thorough inspection and address any issues they find. If you have had a recent inspection, do a walk-around your house and check for any changes.
Missing or damaged shingles allow wind and rain to penetrate the protective layers of your roof. Cracked or sliding tiles need to be repaired or replaced (loose tiles become dangerous projectiles in high winds).
Any area that shows wear and tear or early signs of damage are more likely to fail during a storm and should be addressed before storm season.
2. Clean Gutters and Downspouts
Blocked gutters or downspouts prevent water from flowing off your roof. This causes water to back up onto your roof and under the shingles which can then leak into your home.
Dented or uneven gutters prevent water from flowing to the downspouts and allows water to pool inside the gutter.
Check for loose or weak fasteners. When gutters get heavy with soaked leaves and debris, they can break away from the roof and take pieces of the eaves with them.
3. Remove Debris
Debris that collects on the roof can wash off into the gutters and clog them. Debris that remains on the roof can retain moisture after a storm and lead to mold and rot.
At least once a quarter, and especially before storm season kicks off, check to be sure your roof is free of debris.
4. Trim Trees
Trim tree limbs or small branches that extend over the house.
A tree branch doesn't have to fall on your roof to cause damage. Any branches close enough to touch the roof can damage, or even lift up shingles, when swaying in the wind.
Dead limbs or large branches that break off completely cause severe damage when they land on your roof — possibly even cracking roof beams or breaking through your roof entirely.
Trim your trees annually and keep branches six feet or more away from your roof. This will minimize the risk of falling branches and keep leaves and other debris from collecting on your roof.
5. Check Large Trees for Age and Weakness
Weak or diseased trees can break or become uprooted in heavy winds, so you need to inspect trees near your house to make sure they're healthy.
It's not always necessary to call in the pros for this. Trees will tell you when they're unhealthy.
Look for signs that your trees are under stress. Deformed or dropped leaves, missing bark, dead limbs, and withered branches are all indications your tree is suffering.
If your tree is leaning, it could signal weakness in the root system. The tree might not be strong enough to stay upright in heavy winds and may need to be removed before storm season.
Keep in mind, trees don't have to be next to your house to be dangerous. They're often taller than they appear, and if they were to fall in the wrong direction, that could spell disaster for your roof.
If you see any indications that your tree might not withstand heavy winds or storms, call a tree surgeon. They can help you determine what needs to be done to save the tree or if it needs to be removed to make sure your roof is not in danger.
6. Prevent Ice Dams
Winter storms can present some of the same dangers as summer storms. Frozen branches can break more easily, even without strong winds. And ice dams can form as snow melts and refreezes.
Preventing ice dams can be your first line of defense, but ice and water shields can add an additional layer of protection.
An ice and water shield is a fully-adhered roof underlayment, which in layman's terms means it sticks to your roof. It's not going to blow away in a strong wind or shift from the pressure of snow and ice.
If an ice dam does form, an ice and water shield gives you superior leak protection against harsh weather conditions.
7. Buy Some Tarps
After a storm, tarps are a rare find. Home improvement stores will often sell out of supplies like tarps and plastic. Even roofers may deal with supply shortages if the storm damage is widespread.
Buy some tarps before storm season and set them aside. That way, you're prepared to make any temporary repairs and prevent further damage.
8. Secure or Store Loose Items Around Your House
Patio furniture, lawn decorations, or any loose items around your house can become flying debris in heavy winds. Tie down or store these items to prevent them from becoming projectiles that can damage your home or someone else's.
This can be even more important in areas where hurricanes or tornadoes are common. Flying debris can break windows and create a sudden change in pressure inside your home.
The added wind force inside your house can compromise your roof's stability or lift the roof completely off the house.
9. Check Your Insurance Policy
Review your insurance policy. Make sure you're familiar with what it covers and verify it's up to date. Keep your roof warranty and your insurance policy together to make them easy to find.
Download a claims form in case power outages keep you from accessing your policy online. And take pictures to document the condition of your roof before and after the storm.
Having proof of what damage was actually caused by the storm can expedite your claim and ensure your claim gets approved.
10. Program a Few Important Numbers in Your Phone
If you've experienced any storm damage, you'll want to file a claim. After letting family know you're safe, your insurance agent may be your next call after a storm. The next call needs to be to your service roofer so any temporary repairs get scheduled immediately.
Programming those numbers in your phone can save valuable time. Getting repairs started as quickly as possible prevents further damage from happening before the next storm arrives.
Don't Let Storm Season Sneak Up on You
Ideally, you'll make it through storm season unscathed. But follow this simple checklist, and you'll at least know you've done all you can to prepare for the storms that do come your way.