Roof Replacement Cost: What Should You Expect?
Your roof replacement cost depends on 4 key factors. Learn what these factors are and how they impact your costs.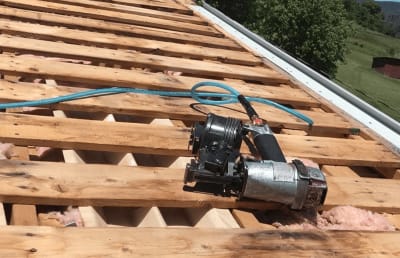 How much does roof replacement cost?
The short answer is anywhere from $3.25 per SQ FT to $28.00 per SQ FT.
How do you know where your roof will fall within that spread? Ultimately, it depends on four key factors:
The type of roof material
The type of roofer
How complicated your roof is
Where you live
In this article, we'll look at each of these factors in turn, so you know what to expect and how you can get the best possible roof replacement cost.
Factor 1: The Type of Roof Material
The most important factor in your roof replacement cost is the type of roof material you choose. Roofing materials range from about $3 to $28 per SQ FT, depending on the material you choose.
Here are ten of the most common roof types and price ranges, organized roughly by the type of material and its cost.
3-Tab Asphalt Shingles
3-tab asphalt shingles are a popular choice because, not only are they one of the most affordable roofing materials, but because they're durable. They can last 20 to 25 years and are both fire-resistant and weather-resistant.
Cost: $3.25 - $5.50 per SQ FT
Architectural asphalt shingles
Architectural asphalt shingles are made of the same materials, but with two or more layers, so they're more durable. This extra bulk makes them more wind-resistant, which gives them a longer lifespan of 30 years. They're also more attractive, giving your roof a textured appearance that stands out.
Cost: $3.95 - $8.00 per SQ FT
Designer asphalt shingles
Designer asphalt shingles can give your home a dramatic visual impact — from old-world elegance to timeless distinctiveness — at an affordable price. This type of shingle can mimic more expensive shingles, without the maintenance or cost.
Cost: $5.50 - $11.00 per SQ FT
Flat-roof membrane
The most commonly used flat-roof membranes are EPDM (synthetic rubber), PVC (Polyvinyl Chloride), or TPO (Thermoplastic Olefin). Of these, EPDM is the most common (and the least expensive). All of them can last 30 to 40 years.
Cost: $6.00 - $15.00 per SQ FT
Cedar shake
Cedar shake shingles are one of your most attractive roof materials. 100% sustainable and natural, they're very durable, lasting 25 to 30 years. Be aware, they also need periodic fire retardant treatment, especially in fire hazardous areas like California.
Cost: $6.00 - $15.00 per SQ FT
Metal (exposed fastener)
Metal roofs are one of your longest lasting roof materials, depending on the climate in your part of the world. Made of steel, aluminum, or copper, they can last 40 to 80 years.
Exposed fastener metal roofing is the most economical metal roof. There's nothing complicated about its manufacturing. And because this type of roofing material is fastened directly to the structure through the face of the metal (the fasteners aren't hidden), it's the least labor-intensive to install.
Cost: $3.25 - $6.00 per SQ FT
Metal (standing seam)
Standing seam metal roofing is a higher quality metal roofing, with raised seams that hide the fasteners. Because fasteners aren't visible, they're protected from UV, moisture, and wind damage. This type of roof can give your home a sleek, modern look while protecting it from wind uplift and water leakage. It's also fire and impact resistant.
Cost: $6.00 - $18.00 per SQ FT
Copper (standing seam)
A copper roof is the gold standard of metal roofs — or any type of roof, for that matter. With a life expectancy of hundreds of years, it's also beautiful and practical. Copper roofs are low maintenance, lightweight, fire-resistant, and experience minimal expansion and contraction from hot and cold cycles.
Cost: $15.00 - $25.00 per SQ FT
Synthetic slate/shake
Synthetic slate shingles, a composite of plastic and rubber, have the beauty of slate without the high installation costs. They can also last longer since they have an advanced ultraviolet inhibitor that reduces wear from the sun and are less likely to crack. Of all roof materials, they have the highest fire-resistance rating (Class A).
Cost: $9.00 - $18.00 per SQ FT
Real Slate
Slate tiles are one of the most durable roofing materials — and the most expensive. They have a life expectancy of 50+ years for soft slate, up to 200 years for hard slate. They're also naturally resistant to fire, rain, snow, hail, and wind.
Cost: $18.00 - $28.00 per SQ FT
Factor 2: The Type of Roofer
The second factor that impacts your roof replacement cost is the type of roofer you hire for the project. There are 4 types of roofing companies:
With a small business roofer, your roof replacement cost will be in the bottom half of the price ranges listed above.
With a full-service roofer, the price will land in the middle of the price ranges.
With a sales roofer, you can expect the bid to start in the upper half of price ranges. With good negotiation, you can generally get a price in the upper middle of the price ranges.
With a storm roofer, the total cost will likely be in the middle to top half of the price ranges. Your out-of-pocket cost will depend on what your insurance company is willing to pay and how much you are willing to pay on top of that.
Factor 3: How Complicated Your Roof Is
A big factor in the final roof replacement cost is how labor-intensive the project is. Expect to pay more per SQ FT if your roof:
has lots of facets or angles
is steep
is a hipped roof
is higher than two stories
isn't easy for a truck to access
has multiple roof layers that need to be removed
has old asbestos shingles that need to be properly removed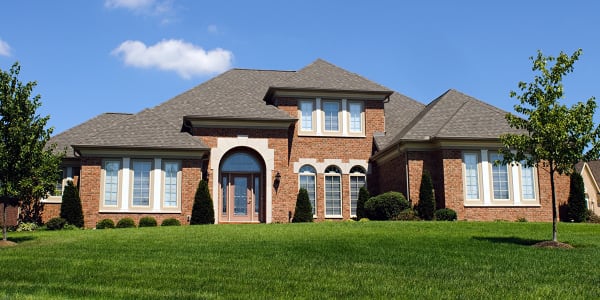 Hipped roofs slope downward on all four sides of the roof.
Factor 4: Where You Live
The final factor in the roof replacement cost is where you live. If you live in a major metro or very remote area, your roof replacement cost will be higher.
Calculating Your Roof Replacement Cost
How are these four factors calculated and what do you get?
Pricing is calculated per square foot (SQ FT) of your roof. Per SQ FT prices include:
Tearing off the existing roof
Materials
Labor
Hauling away trash and cleanup
Put that together with the four factors we just discussed, and you have a good idea of what your roof replacement cost should run.
Remember, there are some areas where you can contain costs. If you have a smaller budget, look for less expensive roofing materials. And no matter what your budget, carefully vet your roofer to be sure they're a good fit for your project.
***
Roofsimple offers ideas, not advice. Any financial decisions should be discussed with a trusted financial adviser.