Slate Roof System
Slate Roof System
For a beautiful, elegant roofing system that lasts a lifetime, nothing beats slate.
Slate tiles are the most durable roofing material — and usually the most expensive. They have a life expectancy of up to 200 years for hard slate. They're also naturally resistant to fire, rain, snow, hail, and wind.
Slate is strong enough to handle strong winds and heavy snows, making it a good roofing material option for regions with extreme weather.
But its weight can also be a hindrance. It often needs additional framing during installation — and some roof structures simply can't handle the extra weight.
Roofsimple's Slate Roofing System delivers all the benefits of real slate without the extra cost, weight or installation delays normally associated with slate roofs with GAF's TruSlate®.
RoofSimple Slate Roofing System with TruSlate®
Our Slate Roofing System uses GAF TruSlate® along with the best roofing system components available to ensure your roof lasts.
TruSlate® is not imitation or a synthetic slate. It's real hand-split, s1 grade slate, but without the high cost normally associated with slate roofs.
Crafted from natural stone and quarried at select locations in the USA known for their superior quality standards, these slates have been protecting houses for over 100 years.
But because of GAF's unique system, they're no longer limited to high-end homes.
That's because most of the slate on a traditional slate roof is wasted where it can't be seen. And that adds weight and cost.
GAF's TruSlate® cuts that cost and weight by replacing the slate you can't see with a special waterproofing material.
Keep scrolling to learn more.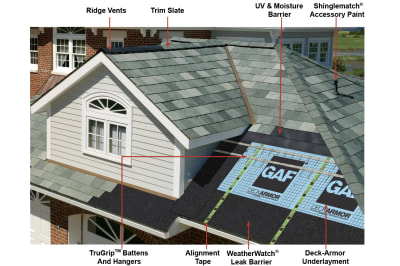 GAF TruSlate
TruSlate® slate is not an imitation or a synthetic slate. It's real slate crafted from natural stone.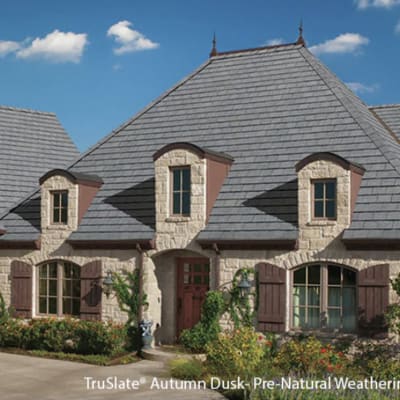 Slate Roof View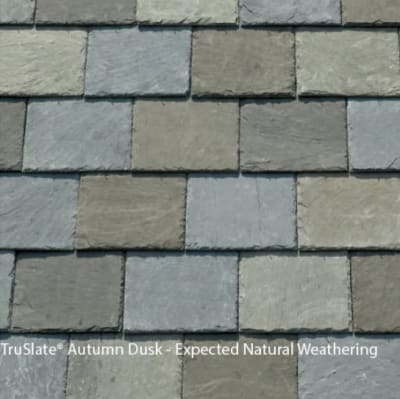 Slate Roof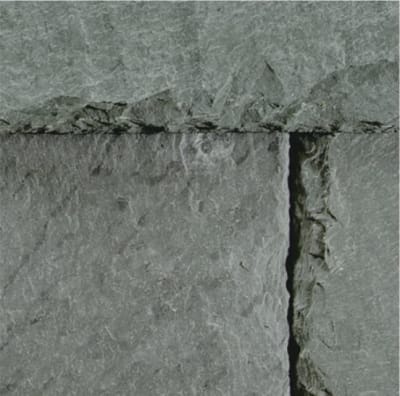 Slate Tile
More Attractive and More Durable
Slate is one of the most aesthetically appealing roof materials available. It's also the most durable. Slate has been used for centuries proving that it can stand up to the test of time.
When properly maintained, slate can last for hundreds of years. In the rare event that a tile is damaged, TruSlate® makes repairs as easy as swapping out the damaged tile without having to replace the tiles around it.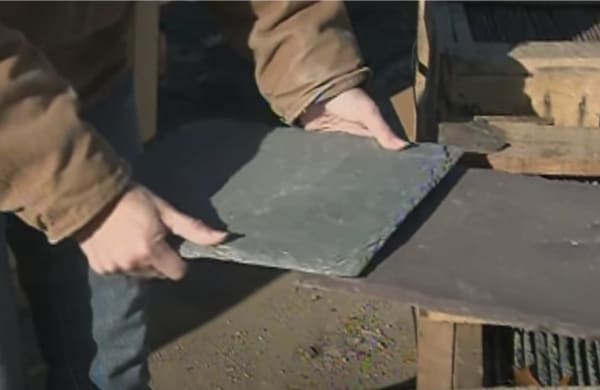 TruGrip™ Battens and Hangers
One of the things that separates TruSlate® from regular slate roofs is the installation process. Normally, slate tiles are nailed in to place. This is a slow time consuming process that can also lead to a lot of wasted material.
TruGrip™ Battens and Hangers make installation fast and secure. Each tile is locked into place by stainless steel hooks that help prevent blow-offs. Both the battens and the hangers are made of high-grade stainless steel that's designed to last the life of your roof.
It's also the genius behind quick repairs. Simply replace a tile by lifting it out of its hanger and replace it with a new one.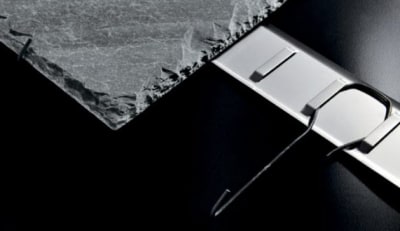 UnderBlock™ UV & Moisture Barrier
GAF's UnderBlock™ UV & Moisture Barrier is the reason TruSlate® can save you so much money.
Traditional slate roofs require a 10–12 inches overlap to make sure the roof is water proof. All that extra slate is there to protect the roof deck from any water that gets up under a tile.
That means almost half of the slate on the roof is being covered up by the tile on top where it isn't even seen.
The UV & Moisture Barrier is made of ultra-tough, high-density polyethylene and is laid under each row of tiles. This provides even better protection and cuts down the amount of slate by almost half.
GAF WeatherWatch® Leak Barrier
GAF's WeatherWatch® Mineral-Surfaced Leak Barrier is a fully-adhered roof underlayment with an adhesive back, used to prevent damage caused by ice dams and wind-driven rain.
The eaves, rakes, valleys, and chimneys are the most leak-prone areas of a roof. GAF's WeatherWatch® Mineral-Surfaced Leak Barrier is a self-sealing material, making it an exceptional leak guard.
In addition to protecting against costly damage to the roof itself, The WeatherWatch® barrier may prevent expensive damage to the interior of your home, like wall and ceiling stains, which often result from leaks.
GAF Deck Armor® Premium Synthetic Underlayment
Moisture barriers are designed to prevent water from getting to the wooden deck. As a roofing underlayment, the moisture barrier is installed over the deck of the roof and under all the other layers of the roof.
Conventional organic felts can absorb moisture, causing buckling and wrinkling that can affect the look of your roof. Our Slate Roofing System uses Deck-Armor™ Premium Breathable Roof Deck Protection. This synthetic moisture barrier provides greater strength and breathability than conventional felt barriers. And it helps protect your home against wind-driven rain and trapped moisture.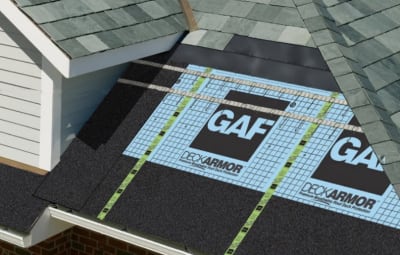 TruSlate® Ridge Vent
Good ventilation keeps any heat that's transferred to the attic from building up. If the temperature outside is in the 90s, attic temperatures can get as high as 160 degrees. And that heat has to go somewhere.
Without proper ventilation, attic heat will transfer to the inside of your home. And if temperatures get too extreme, it won't just raise your electric bill — it can actually damage your roof.
TruSlate® Ridge Vents allow heat and moisture to escape at the ridge which is the most effective point on your roof to vent excess heat. And they also resist snow infiltration in harsh winter weather.
TruSlate® Ridge Vents are designed especially for slate roofs and provide 20 square inches of ventilation per linear foot.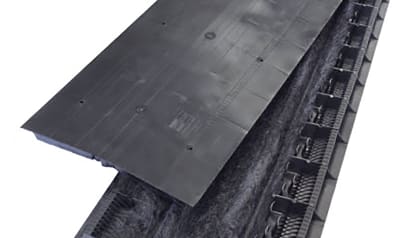 TruSlate® Trim Slate
Ridge caps add the finishing touch to a beautiful slate roof. TruSlate® Trim Slate is designed specifically for the hip and ridge areas of your TruSlate® roof.
In addition to creating an aesthetic appeal to your new roof, they also add protection to these vulnerable areas.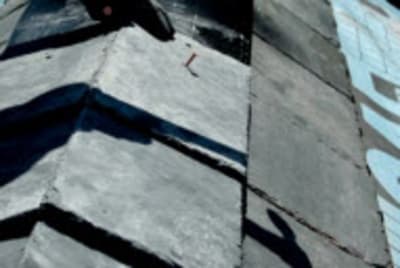 Optional Copper Flashing Upgrade
Since slate roofs can last for decades, consider upgrading to copper flashing. Copper can last up to 50 years and is highly resistant to fire, hail, and mildew.
Copper contains no iron, so it doesn't rust. Instead it develops a beautiful green patina over time that actually protects the metal from further corrosion.
Other Substitutions for Flashing Metals Include:
24 gauge [.024 inch-(.61 mm)] thick stainless steel with stainless steel fasteners.
16 ounce (454 g) [.026 inch (.66 mm)] thick lead-coated copper with stainless steel fasteners.
4 lb. (1 .81kg) [.062 inch (1.57 mm)] thick lead with stainless steel fasteners.
.016 inch (.41 mm) thick copper-clad stainless steel with stainless steel fasteners.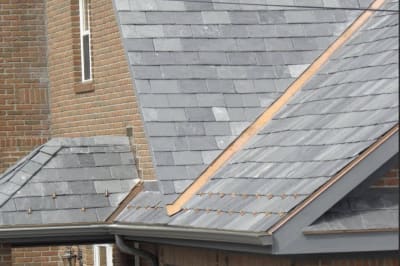 Benfits of a TruSlate Roof
Can last anywhere from 75 - 200 years.

More affordable than traditional slate roofs.

Impervious to mold, mildew, and insects.

Good for any climate.

Incredible curb appeal.

Naturally resistant to fire.

Won't curl up or warp like asphalt roofs or synthetic slate.

Easy to repair.

Environmentally friendly.
Our Slate Roofing System Warranty
Because TruSlate is real slate that will last for years, Our Slate Roofing System comes with the best warranty we offer.
Lifetime Workmanship Warranty

Lifetime Total Materials Warranty

50 Year, Non-Prorated Warranty

Fully Transferable Warranty (Transferable one time within 20 years)