EPDM Membrane Roof System
EPDM Membrane Roof System
EPDM Membrane Roofing Systems are a great solution for low-slope or flat roofs.
Flat roofs (or low slope roofs)
Flat roofs (or low slope roofs) are most common in commercial settings, but they can also appropriate for residential buildings. Depending on your area, architectural style, or type of building, flat roofs offer solutions where traditional gable or hipped roofs won't work.
Flat roofs aren't really flat. They do have a slope to ensure drainage, though sometimes it's so slight it's hard to notice. In fact, even with the slight slope, many flat roofs still deal with standing water.
That's why it's important to have your flat roof done right. Sub-par materials or installation can cut down your roof's lifespan significantly. And you'll likely be dealing with leaks and repairs for years to come.
Roofsimple's EPDM Roofing System uses Carlisle® Syntec Systems non-reinforced Sure-Seal EPDM membranes which have a strong track record of performance and dependability.
Plus, we customize each installation so you can be sure you're getting the best solution for your needs.
What is EPDM?
EPDM (ethylene propylene diene terpolymer) is a synthetic rubber, single-ply roofing membrane made from ethylene and propylene which are derived from oil and natural gas. EPDM is known for its durability and low cost.
EPDM has been around for almost 60 years and still one of the most popular roof systems in use today.

The Benefits of an EPDM Roofing System
Low Cost
EPDM is one of the least expensive low-slope roofing solutions available. That's because EPDM membranes can last up to 50 years far surpassing other roofing options.
EPDM is also lighter and easier to handle than other flat roofing options which means quicker and more efficient installation. And that means lower labor costs.
Energy Efficiency
EPDM can be an energy efficient solution for your Low-Slope Roof.
Carlisle SynTec Systems EPDM Sure-White® helps save on cooling costs due to the higher solar reflectance of the lighter color of the membrane.
But for colder climates the traditional dark-colored Sure-Seal EPDM from Carlisle helps reduce heating costs by absorbing radiant heat.
EPDM is also better for the environment than many other flat roof solutions. According to Life Cycle Assessment using the EPA's TRACI model and found that EPDM:
had the lowest global warming potential
had the lowest acid rain impact
had the lowest contribution to smog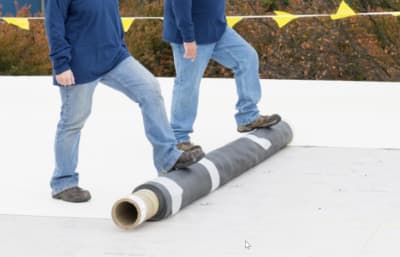 Easy Installation
One of the reasons EPDM is so cost-effective is because it's easy to install. Many other low-slope roof systems require reinforcing the roof because of they add so much weight.
EPDM weighs less than most other roofing options. That means you save money by reducing labor and by avoiding costly upgrades to your roof's structure.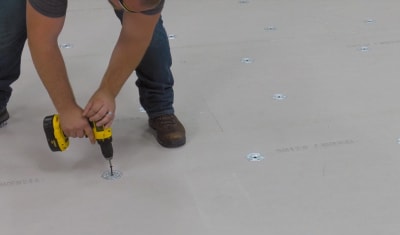 Fully-Adhered Installation
EPDM can be mechanically attached or fully adhered. Roofsimple only uses fully-adhered systems to ensure the greatest uplift resistance and protection against water penetration.
EPDM is installed in much the same way TPO is installed. Insulation is installed over the roof structure and the EPDM is than adhered to the insulation and sealed around any pipes or vents.
One major difference in the installation process between TPO and EPDM is that EPDM uses adhesives for seams rather than heat-welds.
Extra Width
Carlisle's Sure-Seal EPDM is available in rolls up to 10 feet wide and 100 feet long. The EPDM Sure-White® comes in widths of up to 20 feet and lengths of up to 100 feet. That means fewer seams and fewer chances for water penetration.
Puncture Resistance
EPDM comes in 45 mil, 60 mil, and 90 mil. The most common is the 60 mil which is about the thickness of a quarter.
Carlisle's Sure-Seal® EPDM can stand up to UV exposure without cracking or crazing (those fine cracks that appear on the surface). That superior weathering resistance also results in superior hail damage resistance (UL 2218 Class 4 rating).
Another factor that makes Carlisle's Sure-Seal® EPDM so puncture resistant is its flexibility. Carlisle's Sure-Seal® EPDM ranks among the best. It remains flexible even in temperatures as low as -40°C.
Durability
When properly installed and maintained, EPDM can last up to 50 years. It's the most dimensionally stable heat resistant membrane available. Carlisle's Sure-Seal® EPDM ranks among the best. It remains flexible even in temperatures as low as -40°C.
In fact, numerous studies — and over 50 years of installations to compare — confirm that Sure-Seal EPDM is one of the longest-lasting membrane roofing systems available.
Our EPDM Roofing System Warranty
Up to a 30 Year Total System Warranty

40 Year Non-Prorated Material Warranty Is Available with 90-mil Black

Standard Wind Coverage of 55 mph (up to 120 mph is available)

1" Hail Warranty with 60-mil (2" Hail Warranty with 75 or 90-mil)