The Nonobvious Question You MUST Ask a Potential Roofer
When considering a roofer, there's one question you must ask to ensure you have a good experience with them. Here's what it is and why it matters.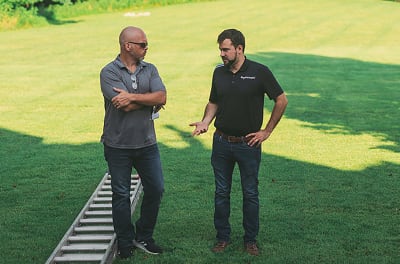 Customer service isn't something you usually think about when you're replacing your roof.
That is, until a crew of sweaty roofers climb onto your home, tarps are hung in front of your door, and trucks are blocking your driveway, making it impossible to escape the chaos.
The truth is, customer service on the job isn't something most roofing companies prioritize. Which begs the question: Have we simply been conditioned to expect so little customer service from roofing companies?
With something as invasive as a roofing replacement, shouldn't we expect better?
Keep reading to learn why you SHOULD expect better and how to be sure you get the support you need when your home needs "critical care."
Customer Service in the Roofing Industry
Most roofing companies prioritize sales and delivery, not customer service. They're experts at fixing your roof. Engaging with the customer? Not so much.
Here's why…
Roofing is a dangerous job.
Working 15 to 30 feet in the air, on a steep incline, exposed to the elements, while lifting heavy objects and using power tools — one false move could be deadly.
The truth is, roofers are precision workers. They're craftspeople whose work can never be less than perfect. And that takes focus.
They're also on a time limit. They know you want your roof to be completed as quickly as possible, so that's their goal. They don't have time to chat or answer questions.
But for most homeowners, questions don't arise until the project is underway. And at that point, who do you turn to?
If you see an issue with how the job is being done…
If you're worried about your prize begonias…
If you need to escape the noise to run an errand, but can't get your car out of the garage…
What do you do?
The answer depends on the level of job site support your roofer provides.
Three Levels of On-Site Customer Support
During a roofing project, you can expect one of three levels of onsite support.
No Job Site Support
Sadly, this is the norm. Most small business roofers and some larger roofing companies can't (or won't) afford to hire this important role.
With small business roofers, the owner is often your point of contact for questions. That may seem like a benefit, but when you need to talk to him, he may be on the roof with his crew or busy managing the project. Either way, he's likely too focused on your roof to handle your questions.
Be aware, that's not actually a problem — you want him focused on your roof. But you also need someone who's readily available to you.
Some Job Site Support
Larger roofing companies usually offer good customer service. On the job site, though, it may be streamlined.
These companies will hire a quality control person who checks in on all of that day's roofing projects. They're available to you for the half-hour when they're checking on your home — but may be hard to find if you need them any other time of the day.
Their degree of availability depends on how many roofing jobs they've been assigned and whether an issue has come up at another site.
Full-Time Job Site Support
Service roofers who prioritize customer service are focused on delivering the best possible experience — especially while your roof is being worked on.
One of the ways they do that is by assigning a job site support person to every roofing job they take on. This person connects with you before the job starts, is available throughout the job, and doesn't leave until the cleanup is done and the crew is gone.
Job Site Support: Putting You First
When you're talking to a roofer about your roof replacement, you're usually comparing the obvious qualities:
Trustworthiness
Experience
Affordability
The type of roofing materials they offer
You may not think to ask the nonobvious question: What kind of customer support do they provide during the roofing job?
Or on a deeper level, Have they thought about how this job affects you personally, even if it is only for a day?
Roofing projects typically involve the people on your roof and (with larger roofing companies) a project manager. There might also be a quality control person who drops in or calls to check on you.
But as we discussed, you may need more support than that.
Imagine the difference it would make to have someone on the crew whose sole job is to be available to you.
The Benefits of Job Site Support
Here are just a few benefits of choosing a roofing company that offers this type of support:
Your stress levels will be lower before, during, and after the project.
You'll have a way to communicate with the crew, so your concerns are addressed right away.
You'll feel confident that the job is being done right.
You'll get timely answers if and when you have questions.
You'll probably impress the neighbors, who may never have seen the difference a service roofer can make.
On-site customer support isn't something you typically think to ask for because it's rarely provided. And it's not something you know you need until after you've experienced it.
But don't sell yourself short. There are roofers who go out of their way to make sure your roofing project is simple.
So when you're choosing a roofer, in addition to your other questions, don't forget to ask the nonobvious question: "What type of on-site support will you provide during the roofing project?" how-choose-roofing-company