4 Things You Should Know Before Hiring a Roofing Contractor
Want to know if you need a roofing contractor? Here are 4 things to know before hiring one.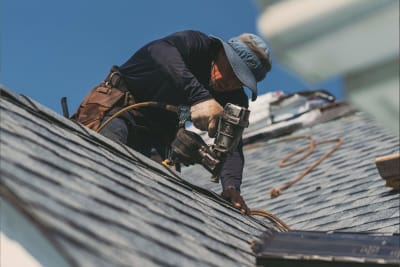 Considering A Roofing Contractor?
When you need a contractor for a roofing project, you should research several options before choosing a provider. Consider their project processes, construction style, insurance accommodations, and warranty guarantees. These factors can help you determine the best roofing contractor for your needs.
Front Royal, VA, residents can turn to Roofsimple as their licensed roofing contractor. We offer roofing repair and replacement services and can work with those covered by insurance policies. Our team seeks to combine honest, thorough customer service with high-quality craftsmanship. Additionally, we believe in providing transparent pricing and direct communication. Contact us at (540) 404-1727 today!
Below, we outline 4 things you should know before hiring a roofing contractor:
Process
First, inquire with prospective contractors about their work process for roofing projects. Determine which materials and techniques they use for each step in the process. Furthermore, ask what measures they take to ensure the longevity of their work.
For instance, how do they remove existing roofing materials? What method do they use for installing new shingles? Also, ask about their cleanup process. Some contractors take no responsibility for clean-up, and they may not alert you ahead of time.
Style
Next, observe whether potential contractors can accommodate the style of your residential or commercial structure. This concern encompasses the shape of your roof and its primary building material.
Roofsimple offers metal roofing contracting work and can use copper, standing seam, and exposed fastener options. We also offer flat and low-slope roofing systems, including self-adhering and membrane materials. Additionally, we provide asphalt, cedar, and slate shingles.
Insurance
Then, check whether your candidate contractors accept your policy if you plan to use insurance to pay for your roofing project. Those contractors should also offer you an inspection service to determine whether your repair/replacement falls within the parameters of an insurance claim.
Furthermore, determine whether you feel comfortable with your roof insurance claim options. Rather than force you into a single option, your contractor should help you discover what options are available for your roof.
Warranty
Finally, check your potential contractors' warranty policies. These can vary based on the manufacturer of your chosen product, and you should watch out for such terms as workmanship, prorated coverage, transferability, manufacturer defects, and algae protection. Check how these factors affect your contractor's warranty coverages.
Roofsimple backs manufacturers' warranties for the products they use. Most of these warranties include basic coverage and a more extensive warranty option, which is contingent on more rigorous installation criteria.
Roofsimple: The Preferred Residential Roofing Contractor in Front Royal, VA

For a trusted residential roofing contractor in Front Royal, VA, turn to Roofsimple. We aim to bring clarity to the roofing industry by informing potential customers about their options. We want you to feel confident in the roofing services you select, so we maintain a straightforward approach. Our team is eager to provide you with personalized attention and a helpful attitude for a job well done. Contact us at (540) 404-1727 for more information.