Will Roofing Companies Finance a New Roof?
Wondering if roofing companies finance a new roof? Here's the answer, plus your best options for financing your roofing project.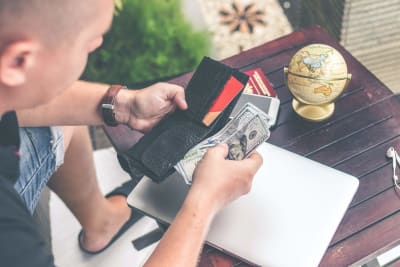 One of the first questions people ask when considering a new roof is, <strong>Will roofing companies finance a new roof?</strong>
The answer is yes, in most cases.
But roofers don't actually offer in-house financing. So let's look at how roofing companies help you finance your roof and what your options are for financing a roof repair.
Which Roofers Offer Financing?
Not all roofers are alike, so when it comes to financing your roof repair, you need to know the type of roofer you're talking to.
You see, there are four types of roofing companies.
Full-service and sales companies almost always offer financing. Storm chasers are insurance experts, but they usually offer financing as well.
Small companies may or may not offer financing. It depends on whether they've partnered with a bank or service that offers home improvement loans (more on that in a minute).
About Zero Financing
Zero financing may seem like a good way to finance your roof repair. But it may not be the "deal" you think it is.
Let's look at what's going on with this type of offer.
When a company offers zero-percent interest, they're actually wrapping all the fees into a single up-front price. That includes a dealer fee, which is usually around 10%.
Your no-interest grace period may be different lengths of time — often 12 to 18 months — and if you pay off the loan during that period, technically, you don't pay any interest.
But your payments don't usually apply to the principle.
During this period, you still make payments on the loan, but those payments go towards the dealer fee and any other fees that were wrapped into this loan. In fact, the longer the no-interest period, the more dealer fees you're paying.
You'll also have a much higher interest after the interest-free period ends.
One other thing to watch out for: If a company offers zero percent, the loan you secure with them isn't valid with any other company. So if you change your mind and decide to go with another roofer, you'll have to reapply with another financial company.
<strong>Pro tip:</strong> Don't go through the application process on this type of deal unless you're ready to buy from the company, because it will ding your credit and make it harder to qualify for another loan.
To be clear, there's nothing wrong with a zero-interest loan. You just need to make sure the math works out for you, because you may end up paying more than you need to.
2 Smart Ways to Finance Your Roof Repair
You aren't obligated to go through your roofer to finance your roof.
That said, if they offer financing options through a home improvement financing company (with no dealer fees), it's worth exploring your options with them. Alternatively, you can seek your own funding.
Here are your options for affordable financing.
Financing Through Your Roofer
If your roofing company partners with a home improvement financing company, you'll be given a choice of loan options (none of them zero-financing) so you can easily compare your options and find the one that's best for you.
These types of lending companies:
Work with any contractor
Are able to quickly show you the cost of the project and pre-qualify you in minutes
Have no dealer fees to buy down your customer's interest rate.
The roofing company doesn't get any compensation for these loans. In fact, they pay an annual fee to be able to offer this convenience.
Also, the funding you get through this type of lender isn't tied to your roofer at all, which means you can use it with whatever roofing company you choose.
Fixed-Rate Loan You Secure Yourself
You can often get better rates if you do the leg work of securing your own financing. Here are some of your best options.
Home Improvement Loan
If you don't have a lot of equity in your home, you can still get an unsecured personal loan to cover home upgrades or fixes. You may get up to $100,000, with rates between 6% and 36%, depending on your credit and income information.
Payments are usually fixed, and there's no prepayment penalty. Online applications can take minutes to fill out, and funds may be available within a day or two.
Home Equity Loan
If you have a lot of equity in your home, a home equity loan or line of credit is a good option for financing your roof.
To set it up, talk with your bank, credit union, or mortgage company about using your home's equity as collateral for your loan.
You can usually borrow up to 85 percent of the equity in your home, depending on your income, credit history, and the market value of your home.
Be aware: If you default on a home equity loan, you could be forced to sell your home to pay the debt.
What's the Best Financing Option for You?
Cash is the easiest, of course. But we know that's not always an option.
If you need to finance your new roof, your best bet is a home equity loan. Your next-best option is a loan from your local bank or credit union.
Be aware, these personal loans, while lower cost, can be less convenient. If it takes a month to get the loan, it can delay your project.
That's one of the reasons your roofer may recommend a home improvement financing company. They can approve loans quickly, so your project stays on schedule.
Roofsimple offers ideas, not advice. Any financial decisions should be discussed with a trusted financial adviser.