5 Things You Should Do When Your Roof Is Leaking
Roofsimple provides high quality, customer focused roof replacement services with a dedicated customer service person onsite during the project.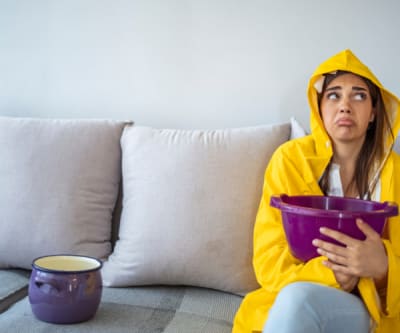 If your roof is leaking, act quickly. The longer you wait, the more damage will occur. You can take several steps to mitigate damages from a leaking roof, including clearing objects from the immediate area, catching the water, puncturing the ceiling, and documenting the damages. Most important of all, you should contact a roofing company for professional roof leak repair.
Roofsimple is a full-service roofing company. We offer roof replacements, repairs, and systems. Moreover, we're SELECT Shinglemaster certified, GAF MasterElite certified, and have an A+ BBB rating. We also have countless 5-star reviews from happy customers! For your next roofing project, contact us at (540) 692-3808.
Below, we outline 6 steps to take when your roof is leaking:
1. Remove Items in the Way
The first step in addressing a roof leak is to protect your belongings by moving them to safety. A steady leak can ruin carpets, furniture, and other items as well as encourage mold and mildew growth. A roof leak is more than enough to deal with; avoid more property damage by clearing the area as soon as possible!
2. Collect the Water
Next, collect as much water as you can. Place buckets, trash cans, towels, kiddie pools, or anything else available to catch and contain the water. Aim to mitigate further damage to your floors and other surfaces. Collect more containers and keep them nearby so you can swap any that fill up.
3. Puncture the Ceiling
Oftentimes, roof leaks cause a sagging bulge to protrude from the ceiling. Although it may seem counterintuitive, puncture the lowest point of the bulge with a screwdriver and capture the water that comes out. Doing so prevents that water from continuing to collect in that spot.
If you don't puncture the bulge, the collected water in the ceiling could spread further or burst on its own, causing even more damage. Big roof leaks may require several punctures. Remember to place buckets or other containers to catch the water!
4. Contact a Professional Roofing Company
As soon as possible, call the professionals. Whether water is still leaking or you have stemmed the immediate symptoms, the problem will only worsen until dealt with. Roofing requires professional expertise to ensure a successful repair process. Technicians can diagnose the source of the leak and repair or reconstruct your damaged roof.
5. Document the Damages
After the event that precipitates the roof leaks concludes—but before repairs begin—document the damage for insurance purposes. Take photos of the damage for later reference, as you will probably file a home insurance claim down the road. Without sufficient documentation, you may have to pay out of pocket.
Take pictures of damaged property as well as any damaged belongings. Many insurance plans will cover the cost of the roof repair and the replacement of your belongings.
Expert Roof Leak Repair for Your Home
If your roof leaks in heavy rain, look to Roofsimple for emergency roof leak repair. We'll get to the source of the problem and take care of your damaged roof in no time. Moreover, you shouldn't have to settle for insufficient roofing services in the first place. We offer roofing services that leave beautiful, long-lasting results. For roofing done right, contact Roofsimple at (540) 692-3808.