Best Roofing Manufacturers: The Top Brands for Your Type of Roof
Reroofing your home? Choose roofing materials from one of the best roofing manufacturers that are trusted by roofers. Here are our top picks.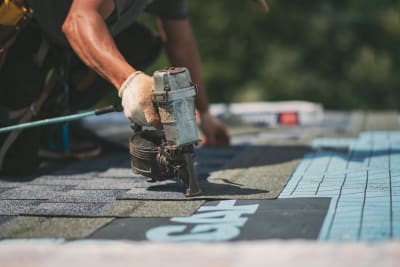 When your home needs a new roof, you have some important decisions to make — most importantly, finding a roofer you trust and the roofing material you like best.
There are so many options out there, it can be overwhelming. To help, here's our list of the best roofing manufacturers that we recommend, sorted by the type of roofing material they manufacture.
These are the brands you can trust when you're selecting your new roof.
Asphalt Shingle Manufacturers
The most common type of roof in North America is the asphalt shingle. It's economical and weather resistant, making it a good option for any budget.
TIP: Choose a white shingle for its energy efficiency — it will reflect the sun's heat, keeping your home cooler and more comfortable.
GAF is one of the industry's top-tier asphalt shingle manufacturers — and the leading roofing manufacturer in North America today. Established in 1886, GAF roofs cover one in four homes in the U.S.
They offer high-quality 3-tab, designer, and architectural roofing shingles. If you're in a high-wind area, try the Timberline HDZ shingles, which have the industry's widest nail zone, for extra strength.
GAF is the founder of the Certified Green Roofer program to encourage recycling of asphalt shingles and provide specialized recycling training for contractors.
Another of the industry's top-tier shingles manufacturers, Owens Corning operates in 33 countries as a global leader in building and industrial materials. They've been a Fortune 500 company for 66 years and were the 2020 winner of the Women's Choice Award, America's Most Recommended Roofing Product.
Owens Corning has a wide range of shingles for every budget. Their Oakridge and Duration lines of asphalt shingles are known for their curb appeal. You can find Energy Star certified options in both lines.
Committed to sustainability, Owens Corning publishes a sustainability report each year to highlight its progress in environmental, social, and governance commitments.
Certainteed is another top-tier shingle manufacturer. Founded in 1904, they lead the way in developing innovative and sustainable building products, from roofing to insulation and siding.
Their Landmark asphalt shingles have the dimensionality of wood shake and give you a heavy-weight shingle in a huge assortment of colors. Prefer a designer shingle? Their Grand Manor shingle gives your home an elegant, old-world look.
Certainteed's commitment to sustainability includes a triple bottom line for all stakeholders: high-performance, affordable products for homeowners, and reduced overall environmental impacts.
TAMKO introduced their first shingle in 1944. Since the 1980s, they've run a Continuous Improvement program that aims to drive out variation and waste from their processes and products.
TAMKO's big focus is on curb appeal. Their shingles have vivid colors and style that you won't always get from other manufacturers.
Founded in 1951 in eastern Canada, IKO has plants across North America and Europe. They are the world's largest exporter of asphalt shingles, providing shingles to 96 countries around the globe.
IKO provides asphalt shingles for every budget. Their Cambridge Cool Colors line is a rare find — colored shingles that are compliant with California's Title 24, Part 6. (Most energy-efficient shingles are only available in white.)
Atlas was founded in 1982 to drive Accountability, Talent, Leadership, Agility, and Sustainability in the roofing industry. Their mission is to be different, unique, innovative, and accessible.
Atlas' StormMaster shingles are designed to withstand extreme weather. These shingles are stronger than many other shingles, designed to withstand impact, winds, and cold.
Atlas has an 8-point environmental policy statement that expresses their commitment to compliance and sound environmental practices in its business decisions.
Malarkey is a family company that tries to uphold the core values it was founded on in 1956: service and integrity.
Their Alaskan shingle deserves a mention. It was the first SBS polymer modified roofing shingle, the first to meet the 110 mph Miami-Dade building code requirement for wind, and the first 3M Algae Block shingle.
In 1985, Malarkey received the State of Oregon's Governor's Award for Outstanding Achievement in Energy Conservation.
Metal Roofing Manufacturers
Metal roofs are an affordable, energy-efficient option for your roof. They come in exposed fastener, standing seam, or stamped profiles, which are manufactured to look like other roofing materials. They're manufactured in steel, aluminum, zinc, or copper.
Englert has been a top-tier manufacturer of residential metal roofing and gutter systems since 1966. They offer the most comprehensive contractor certification program in the metal roofing industry.
They have the largest selection of Energy Star approved materials and coatings, with LEED compliance across its entire line of paint choices.
They offer a broad range of standing seam panel profiles, panel widths, and finishes — and offer on-site fabrication to eliminate shipping damage and errors.
Founded in 1963, McElroy now has 13 manufacturing facilities, 24 service centers, and 44 metal mart locations across the U.S.
One of the nation's top-tier manufacturers of residential roofing systems, they offer exposed fastener, standing seam, and stamped profile roofing that has great curb appeal. Their Tilcor Stone Coated CF Shingle even resembled traditional asphalt shingles!
Founded in 1963 as Aluminum Trim And Shapes, ATAS is a family business that's recognized as a leader in the metal construction industry. As of this writing, they've earned the Lehigh Valley Top Workplaces Award for five consecutive years.
ATAS manufactures a variety of metal roofing systems: standing seam, batten seam, shingles, tiles, through-fastened panel, and curved or tapered series.
Since 1980, Classic Metal Roofing Systems has been manufacturing shingles, shakes, tile, and standing seam roofing products from 99% recycled aluminum. Now, they also offer steel roofing.
Their Country Manor Shake is a metal tile that looks like cedar shakes. It can save 25% on energy bills and withstand hurricane strength winds and hail.
In addition to their asphalt shingles, Certainteed offers some beautiful options for metal roofing. Their stamped profile metal roofing can look like real wood shake, quarried slate, or traditional clay tiles.
TAMKO's Metalworks Steel shingles give you the look of slate, tile, or wood. Each is double-stamped in G-90 steel and is 100% recyclable. These metal roofing systems are Energy Star qualified and rated by the Cool Roofing Council.
Membrane Roofing Manufacturers
Flat roofs require a different treatment than inclined roofs. You'll need a waterproof membrane made of EPDM, TPO, or PVC.
Since 1978, IB Roof Systems has manufactured PVC membranes and complete roofing solutions for flat or low-sloped residential roofs. They have one of the longest, most durable solutions available, with a lifetime residential material warranty.
IB's 50MIL PVC membrane is 156% thicker, 160% more durable, 185% stronger, and 266% more pliable than ASTM standards, and it's seam strength is 247% more reliable. The IB white PVC membrane is Energy Star qualified.
WeatherBond is the leading supplier of single-ply roofing systems, including EPDM, TPO, and PVC. They're a subsidiary of Carlisle Construction Materials, LLC, since 2006.
WeatherBond offers a limited lifetime warranty on their materials. They also offer an extended warranty through WeatherBond Recognized contractors.
Cedar Shake Manufacturers
Shakes age to a silver-gray color that gives your home an old-world, natural, or rustic charm. With its natural insulation properties, it can keep your home cool in summer and warm in winter.
Waldun Forest Products is one of the largest mills in the shake and shingle industry. Founded in 1974 along the Fraser River in Ruskin, B.C., they're committed to producing the highest quality shakes on the market.
They manufacture split and re-sawn as well as tapersawn shakes in premium, number one, and standard grades. They're available in 16-, 18-, and 24-inch lengths.
Founded in 1947 by Bill Watkins, Watkins is a family-owned operation in B.C., Canada. They're one of the largest manufacturers of cedar siding and roofing in North America.
Watkins manufactures certified cedar shakes and shingles, as well as stocking and supplying uncertified shakes and shingles from other suppliers — giving you the broadest selection possible, from rustic to modern.
Located in Maple Ridge, B.C., Imperial Shake was founded in 1998 to create a better shake. It's now one of the most consistent sawmills in the industry, with direct access to raw materials that meet their strict quality controls.
Their western red cedar shakes have been a first-choice option in North America and other parts of the world for more than a century. They're available in 18- and 24-inch lengths.
Slate Roof Manufacturers
One of the longest lasting roofs you can install is slate. It's low- to no-maintenance, waterproof, fire retardant, and freezing/thawing resistant.
Considered by many to be the highest quality slate in the U.S., Buckingham Slate is quarried in Virginia and can last 150 years.
It's resistant to acids and has a low absorption rate, making it a superior roofing slate.
Quarried in Canada, Glendyne slate can last 100 years.
It comes in a dark grey with shades of blue. It's free of pyrite and other metal intrusion, so it doesn't rust, though it does have some stratification marked by fine silts.
Located in the heart of Vermont's slate valley, the New England Slate Company began salvaging slate in the mid 1970s. It exceeds the ASTM S1 rating (the highest grade) and warranties its slate to exceed 75 years.
New England Slate comes in greens, grays, purples, and blacks. You can also request specific sizes, thicknesses, and shapes to create a roof that meets your unique needs.
Headquartered in Slatington, PA, since 1934, PBBS mines and manufactures slate for roofing, construction, and architectural applications. It's the leading source of Pennsylvania slate and is known to last 150+ years.
Here, you'll get clear and ribbon slate, cut into a variety of slate sizes, shapes, and thicknesses.
The Best Roofing Manufacturer for You
Ultimately, to get a roof you love, you need to choose a manufacturer you can trust.
You can't go wrong with any of the companies we've featured here. And all of them have options that fit your budget and priorities.