11 Roofing Material Options: Which Is Best for Your Home?
What's the best type of roof for your home? Here are 11 roofing material options with the pros and cons of each.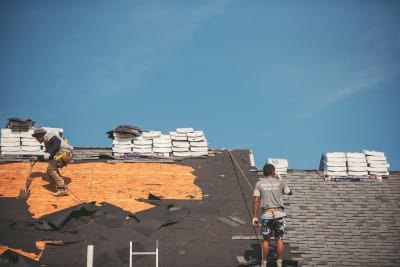 It's time to replace your roof and you're ready to explore your options. What are the pros and cons for the different roofing materials available today?
In this article, we'll take a high-level look at 11 different roofing materials — from the ones you see every day to the less common options you may not have considered before.
Here they are, the 11 most common roofing material options, with the pros and cons of each.
3-Tab Asphalt Shingles
Asphalt 3-tab shingles are the most popular type of roof on the market, with reason. They're the most affordable roofing material. They're durable. And they come in a wide variety of looks and colors.
They're made of fiberglass layered between asphalt and ceramic-covered granules. What results is a lightweight, waterproof, fire-resistant, and wind-resistant covering for your home.
While asphalt shingles aren't necessarily an eco-friendly option, manufacturers are redesigning shingles to be as eco-friendly as possible.
Most Suitable: All climates, especially the Northwest and Northeast
Cost: $3.25 - $5.50 per SQ FT
Pros:
Least expensive roofing material
Lifespan of 20 to 25 years
Wind-resistant and waterproof
Class A UL fire rating
Some are Energy Star certified
Cons:
Fewer aesthetic options
Wind uplift and blow-off can occur with older or poorly installed roofs
Not an eco-friendly type of shingle
Reputable Brands:
GAF
Owen Corning
CertainTeed
Atlas
Architectural Asphalt Shingles
Architectural asphalt shingles are made of the same materials as 3-tabs, but they're made of two or more basic shingles laminated together. This makes them more durable and far more attractive. They also have a longer lifespan at 30-plus years.
Architectural shingles are designed to create a more interesting, dimensional roof. Some can even pass for genuine cedar shakes or slate tiles — at a fraction of the cost.
Cost: $3.95 - $8.00 per SQ FT
Most Suitable: All climates, but especially areas with extreme weather and high winds
Pros:
More attractive than 3-tab asphalt shingles
Made of two or more layers of shingles, making them heavier and more durable than 3-tab shingles
Lifespan of 30+ years
Wind- and impact-resistant
Great curb appeal
Some are Energy Star certified
Cons:
More expensive than 3-tab shingles
Not an eco-friendly type of shingle
Reputable Brands:
GAF
Owen Corning
CertainTeed
Atlas
Designer Asphalt Shingles
Designer asphalt shingles are the luxury line of asphalt shingles. They are thicker, with better coloration and dimensionality. They also come in interesting shapes and sizes that give your home incredible curb appeal.
This roofing material is rated for wind uplift of up to 110 mph, and its thickness makes it especially resistant to hail damage.
Cost: $5.50 - $11.00 per SQ FT
Most Suitable: Areas with extreme weather, including wind and hail
Pros
A relatively affordable shingle that can simulate more expensive roofing materials
Better wind- and fire-resistance than other asphalt shingles
Heavy weight gives it good impact resistance
Great curb appeal
Some are Energy Star certified
Cons
More expensive than other roofing material options
Not an eco-friendly type of shingle
Reputable Brands:
GAF
Owen Corning
CertainTeed
Atlas
Flat-Roof Membrane
Flat roofs don't shed water like a pitched one — so ordinary shingles aren't suitable. The challenge with this type of roof is water leaks. You must create a seamless barrier that water can't penetrate.
The most common roofing material for flat roofs are PVC, EPDM, or TPO: PVC is a single-ply membrane that has heat-welded seams that minimize the risk of leaks. It's flexible and durable and has high solar reflectivity. This type of roof lasts 15-30 years.
EPDM membrane is the most common flat-roof membrane. It comes in large sheets, which minimizes the need for seams. That's good, because with this type of membrane, seams are glued — and over time they're prone to leaks. It lasts 10-15 years.
TPO is a common option for commercial facilities. It comes in rolls of 10, 12, or 20 feet. After being mechanically fastened to a cover board or insulation boards, seams are welded with a hot-air gun. This flat-roof membrane lasts 7-20 years.
Cost: $6.00 - $15.00 per SQ FT
Most Suitable: All climates
Pros:
TPO

Comes in energy-efficient white and light gray
Stands up well to the sun's ultraviolet rays
Puncture resistant and strong

EPDM

Affordable
Comes in energy-efficient white
Class-A fire rated

PVC

Very durable, with watertight heat-welded seams
Wind-resistant and fire-resistant
High solar reflectivity
Cons:
Difficult to install
Often prone to leaks
Reputable Brands:
IB Roof Systems
WeatherBond
Cedar Shake
Cedar shake shingles are one of your most attractive roof materials. 100% sustainable and natural, they're very durable, lasting 10 to 20 years. Be aware, they need periodic fire retardant treatment, especially in fire hazardous areas like California.
Cost: $6.00 - $15.00 per SQ FT Most Suitable: the Central U.S.
Pros:
Cedar is a renewable resource
High curb appeal
Insulates your home, keeping it cooler in summer and warmer in winter
Available in a variety of sizes, shapes, and thicknesses
Cons:
Can be a fire risk if untreated
Must be pressure washed every 4-5 years
Need to be treated with CCA to prevent fungus, mold, and mildew
Reputable Brands:
Watkins Sawmills
Waldun
Cedar Valley
Metal (Exposed Fastener)
Metal roofs are long-lasting and durable, depending on your climate conditions. Made of steel, aluminum, or copper, they can last 40 to 80 years.
Metal roofs are inherently reflective, making them a good option in sunny, arid locations. They can also withstand rain, rot, wind, and fire, making them a good option for wet areas such as the Northwest.
Exposed fastener metal roofs can be quickly installed because they are secured directly to the underlayment, the screws fully exposed.
Cost: $3.25 - $6.00 per SQ FT
Most Suitable: the South, West, and Northwest
Pros:
Most affordable metal roof
Fast and relatively easy to install
Can last 20-25 years
Cons:
Washers/grommets can dry out and break over time, leading to leaks
Needs regular maintenance to replace the screws
May sweat from the underside, due to condensation when outdoor air is warm and humid
Reputable Brands:
ATAS International
American Metal Roofs
Metal (Standing Seam)
The standing seam metal roof has concealed fasteners, making it more durable and weather-tight than an exposed fastener metal roof. It has raised seams that run vertically along the roof, giving it a sleek, modern look.
Standing seam metal roofing gives you a range of choices — color, length, width, profile, shape, thickness, and more — so you can get the look that's right for your home.
Cost: $6.00 - $18.00 per SQ FT
Most Suitable: the Central U.S.
Pros:
Long lasting and low maintenance
Available with a cool roofing coil that reflects the runs rays and radiant heat better than many other roofing material options.
Can be mounted with solar panels, snow retention systems, swamp coolers, and other rooftop additions without having to penetrate the roof surface.
Cons:
More expensive than exposed fastener metal roofing
It may be hard to find a roofing company that's experienced in metal roof installations
Can be difficult to repair or replace, since panels are attached to one another.
Reputable Brands:
Classic Metal Roofing Systems
ATAS International
Copper (Standing Seam)
Copper roofs have the benefits of a standing seam metal roof, but with incredible curb appeal. Copper panels are installed unfinished and unpainted, so they can develop their beautiful green patina.
Copper can be used on all or part of the roof, say, a prominent window or dormer. It doesn't crack, rust, or corrode, and it can withstand snow, fire, and winds.
Cost: $15.00 - $30.00 per SQ FT
Most Suitable: the Central U.S.
Pros:
Can last 60+ years
Very lightweight, making it easier to install
One of the most beautiful roofs you can install
Return on investment averages 85.9%, according to Modernize
Copper is a green building material, being 75% recycled
Cons:
Expensive
Over time, it will need cleaning to maintain its original shine
May increase your likelihood of a lightning strike
It can be be hard to find a roofer experienced with copper installations
Reputable Brands:
Chris Industries, Inc.
AABCO
CopperCraft
Synthetic Slate or Shake
Synthetic slate shingles, a composite of plastic and rubber, have the beauty of slate without the high installation costs. They can also last longer, since they have an advanced ultraviolet inhibitor that reduces wear from the sun and the likelihood of cracks. Of all roof materials, they have the highest fire- and impact-resistance.
This is a relatively new roofing material, having been on the market for only about 20 years. So while they come with an impressive 50-year warranty, there's no real proof they will last that long. Because they're rubber, they may begin to curl and crack in extreme heat and cold.
Cost: $9.00 - $12.00 per SQ FT
Most Suitable: All climates, especially the Central U.S.
Pros:
Costs less than authentic slate or shake
No special roofing substructure required
Very resistant to fire, wind, and impact
Can look like real slate or shake without the cost
Often made from recycled materials
Can be recycled when removed
Cons:
Not energy efficient
Few roofers are experienced with them
May curl, crack, and disintegrate in harsher climates
Relatively new roofing material, so their longevity hasn't been proven.
Reputable Brands:
DaVinci Roofscapes
EcoStar
Certainteed
Clay Shingles
Clay shingles give your home a beautiful Mediterranean look. Because they're molded from clay, they're eco-friendly. They're also fire-proof and non-fading and can last 40 to 50 years.
Heavier than asphalt shingles, they demand additional framing during installation to support their weight. This extra weight will help them withstand winds, but hail storms can cause breakage.
Cost: $10.00 - $18.00 per SQ FT
Most Suitable: Coastal areas, Southwest
Pros:
Gives you a stunning roof
Can last 75-100 years
Durable in any climate
Maintenance-free roofing material: No coating, sealing, or painting is needed
Energy efficient: reduces heat transfer into your home
Cons:
Shouldn't be walked on
Underlayment must be waterproof since clay shingles allow wind-blown rain to get beneath them
Require additional bracing and structural roof reinforcement to handle their weight
Broken tiles must be professionally repaired
Reputable Brands:
ArteZanos
Boral
Ludowici Roof Tile, Inc.
Real Slate
Slate tiles are the most durable material — and the most expensive. They have a life expectancy of 50+ years for soft slate, up to 200 years for hard slate. They're also naturally resistant to fire, rain, snow, hail, and wind.
Slate is strong enough to handle strong winds and heavy snows, making it a good roofing material option in the Midwest and Great Plains. But its weight can also be a hindrance. It needs additional framing during installation — and some roof structures simply can't handle the extra weight.
Cost: $100+ per SQ FT
Most Suitable: All climates
Pros:
One of the highest quality roofs you can install
Incredible curb appeal
Tolerates climate changes very well
Impervious to mold, mildew, and insects
Can last anywhere from 75 to 200 years
Can be installed flush with solar panels
Cons:
Very expensive
Requires a solid board roof deck to support its weight
Shouldn't be walked on
Contractors don't have much experience with installing slate
There's no source for formal training for slate roofers in the U.S
Reputable Quarries:
Buckingham Slate, Virginia (can last 150 years)
Glendyne, Canada (can last 100 years)
New England Slate, Vermont (warrantied for 100 years)
Penn Big Bed and Pen Argyl, Pennsylvania (can last 75-90 years)
Which Roofing Material Option Is Best for You?
When you're considering different roofing materials for your new roof, start by considering the price and the material's suitability to your climate.
Your roof is a huge investment in your home. While you want to choose a roof that fits your budget and needs, aim for quality and durability. That raises the value of your home overall.