How Roofing Materials Can Add Value to Your Home
Before putting your house on the market, you will probably want to make some improvements. Of the available options, a new roof offers the best increase in home value.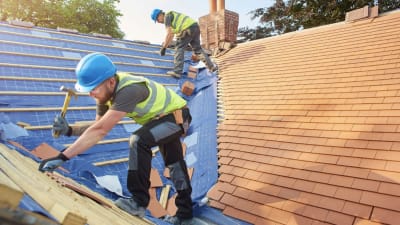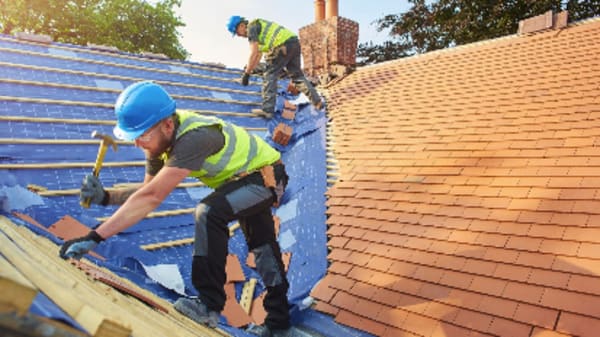 Before putting your house on the market, you will probably want to make some improvements. Of the available options, a new roof offers the best increase in home value. Nevertheless, you must determine specifics about this project, such as which roofing materials provide the best return on investment (ROI) and how a new roof can recoup its costs. When ready to start, look to commercial roofing services for professionalism and expertise.
Folks throughout Northern Virginia can turn to Roofsimple for top-notch roof repair and replacement. We offer numerous roof systems and materials, from asphalt and slate shingles to steep and flat surfaces. Moreover, we deliver outstanding customer service and quality craftsmanship. For your next roofing project, contact us online or call (540) 692-3808.
Below, we discuss how roofing materials can boost your home's value:
How Much Does a New Roof Increase Home Value?
While a new roof may look great on your home, how much can it increase its value? The national average reroofing cost is about $8,798, and material costs are rising rapidly. Still, a new roof can have up to a 107% return, the highest percentage cost recovered among all exterior projects. So, your new roof can recoup its costs and possibly even make you a profit!
Moreover, realtors ranked exterior projects on their appeal to buyers and expected percentage return at resale. New roofing topped both lists, ranking higher than all other exterior home renovations. Moreover, 39% of realtors suggested sellers complete a new roof before attempting to sell. 33% claimed the project helped close a sale.
Yet the exact increase in your home's value depends on the following:
Your existing roof's condition: Home buyers will expect your roof's in working order. If they find leaks or other damage, they may wonder whether the home has other maintenance issues. Additionally, local appraisers will notice a debilitated roof and reduce your home value accordingly.
Market conditions: Housing market conditions also affect the value of home improvements. For a new roof, the ROI varies depending on the region. Ask local appraisers and real estate agents about the market and how roofing affects prices.
The roofing materials you've chosen: Of course, your choice of shingles impacts your new roof's ROI too. As a rule of thumb, refer to the quality of roofing materials in your neighborhood. Stay within a reasonable range respective to your neighbors, and you stand a good chance of a profit. If you're unsure, your HOA may have some answers.
Choosing Types of Roof Shingles
Assuming you have a replaceable roof and good market conditions, it's time to explore roofing material options and determine which offers the best return.
Avoid choosing the lowest-cost shingle, as buyers and appraisers may complain about cheap materials. You want to assure them that the shingles will require no replacement for at least 10 years.
On the other hand, the most expensive shingles will only result in more buyers and a higher appraisal if you're in a market that expects high-end shingles. If your neighbors have less expensive shingles than you do, you will probably fail to recoup the total cost.
The Best Roofing Materials for Resale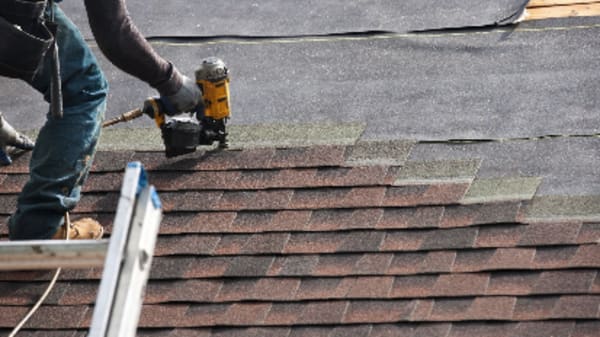 Asphalt shingles remain a safe bet, as long as they're from a well-known manufacturer and within the range of materials your neighbors use. Some insurance companies may even offer lower home insurance rates for a new laminate roof. Mention this to buyers, and it might just tip the scales in their decision to buy your home!
Metal roofs, on the other hand, are not as cost-effective. On average, metal roofs cost morethan asphalt ones and have a lower percentage return. Also, consider how a homeowner will react to a metal roof. Metal roofs are rare, which may worry buyers who have never owned one.
Cedar shakes, meanwhile, are beloved for their natural beauty but require a great deal of maintenance. They also decay quickly and are flammable. What's more, cedar roofs need treatment for insect and mold resistance.
Slate roofs, too, have an attractive, natural appearance that makes them popular among large homes. They cost around the same as the national average reroofing cost, though synthetic slate runs significantly higher. Still, slate shingles have a long life expectancy, so they won't need frequent replacement.
Professional Roofing Services that Boost Home Value
The high ROI of a new roof makes it a great selling tool, and once you've decided to invest, Roofsimple can help. We offer a comprehensive selection of expert roofing services, including roof repairs and replacements. Moreover, we build roofs that maximize satisfaction and ROI. Prepare your home for resale with Roofsimple, and call us at (540) 692-3808.